I didn't want to be the ONLY blogger on the web without a banana bread recipe.
So, here's mine......
Banana Bread
1 1/4 cups self-raising flour
1 teaspoons ground cinnamon
30 g butter
1/2 cup brown sugar
1 egg
1/4 milk
3/4 cup mashed banana
Preheat oven to 220 C

Grease loaf pan or line with baking paper

In a large bowl, add flour & cinnamon, then rub butter into flour mixture.

Add egg, sugar, milk and banana. Stir till combined. Don't over mix...mixture should be lumpy.

Put batter into your loaf pan and bake for about half an hour.

Test for doneness (not sure if that's a word)

Cool in pan for at least 10 minutes before turing out on a rack to cool.
I like to make several loaves, slice, wrap in cling wrap and freeze for school lunches.
The banana bread in the pictures is made with double the quantity...I had to lower heat and bake for an extra 10 minutes....you may need to cover loosely with foil to prevent burning the top of the loaf.
linking to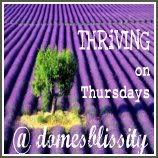 I'm trying out a button, to see if my html codes are correct. The image will change, but I need to see if it works
here 'tis.